Opening Event of Enterprise Cloud Initiative founded by Google Cloud, Accenture and Otto-von-Guericke University Magdeburg.
Welcome address by the Minister President of Saxony-Anhalt, Dr. Reiner Haseloff, the scientific head of the cooperation Prof. Dr. Klaus Turowski presented the key points of the initiative.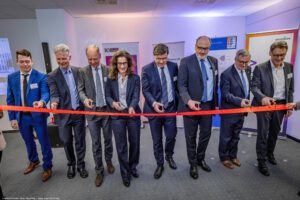 Welcoming ceremony in a pleasant atmosphere, high-ranked representatives of the cooperation partners joined.  This includes Global Managing Director and Chief Technology Officer Prof. Dr. Alexander Zeier and Managing Director Intelligent Platform Services and SAP Business Group ASGR Dirk Appelhoff of Accenture, Director of Government Affairs & Public Policy for Germany Eveline Metzen and Partner Manager Achim Ramesohl of Google Cloud as well as Prof. Dr. Klaus Turowski. After a warm welcome speech from the university's rector, Prof. Dr. Jens Strackeljan.
With cloud platforms in mind as "the next big step", the initiative targets a variety of endeavors in technological, economic, and scientific terms.
While the Cloud Academy aims to prepare the next generation of workforce for the increasingly urgent need for cloud computing expertise, the network of renowned companies serves to explore promising new research directions and opportunities, such as the use of cloud technologies for event-based retailing, real-time campaign management, near-real-time quality assurance, and fraud detection.
Press release: https://www.ovgu.de/Presse+_+Medien/Pressemitteilungen/PM+2021/November/PM+64_2021-p-118958.html
Photos: CreativeChaos (Dirk Dreschel, Lara Kretzschmar)